Skip to Content
Trust We Do Kitchens 2 for Your Kitchen Cabinet Remodel
Do you want to freshen up the look of your kitchen while adding more room and features? Then trust the professionals at We Do Kitchens 2 for unrivaled kitchen remodel packages for your Milwaukee, WI, home. We'll work with you to help design your new layout and choose the best cabinets for your needs without going over your budget. Our team provides stunning remodels that improve your kitchen's functionality, enhance your lifestyle, and add to your home's overall value – all within your existing floor plan. We Do Kitchens 2 specializes in providing exceptional and economical remodeling services to provide you with your idea kitchen. If you're ready to revamp the look and feel of your kitchen, give us a call.
Take Advantage of the Different Cabinet Finishes Available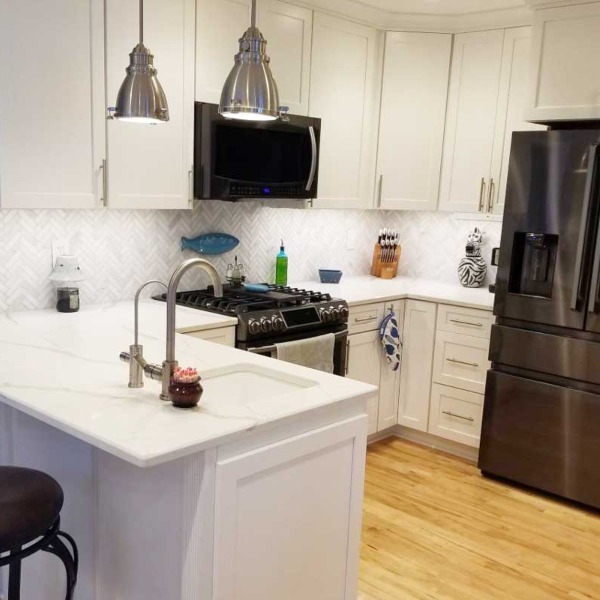 Once you've decided on what material you want, it's time to decide on the look of your new cabinets. Your cabinet's finish can add subtle variations or make the space pop with stand-out colors. Our experienced designers will work with you to help you find the best finish for your kitchen remodeling package. Here are some of the most common cabinet finishes our team applies, including:
Stained – For this finish, a stain is applied to wood cabinets to alter the color, enhance the natural wood grain, or add a protective layer to the cabinets. A wide variety of stains can ensure your wood cabinets resemble oak, walnut, or pecan.
Painted – Painted cabinets offer a wide range of robust and striking color options. Still, they often cover the natural uniqueness of the material. This finish gives you a clean look that matches any color scheme.
Varnished – This is one of the most common finishes applied to kitchen cabinet remodels. Varnished cabinets offer extra durability and heat resistance. Almost all natural cabinets will require varnish at some point in their lifespan.
Distressed – This specific painting technique gives your cabinets an aged appearance with varied looks, so no two cabinets look the same. However, you will experience paint rubbing or chilling in areas with higher traffic.
Explore the Benefits of New Kitchen Cabinets
Your kitchens see daily wear and tear, and a full kitchen remodel, including remodeling your kitchen cabinets, can help create a functional space that better fits your lifestyle. Updating and remodeling your cabinets can quickly improve the look of your kitchen and increase your home's value. We've compiled a list of some of the best benefits of remodeling your kitchen cabinets, including:
Increased Space – Nothing is worse than trying to pull out one dish or ingredient from your cupboard and having to remove everything to get to it. When you remodel your cabinets, you can add all the necessary space and features.
Better Function – Remodeling is the best time to update the additional features of your cabinets. Our designers will work with you to find the best layout to improve the workflow while cooking or working in your new kitchen.
Improved Comfort – Everyone should feel comfortable in their kitchen. Remodeling your kitchen cabinets can help tailor your kitchen into something that works with your lifestyle. Working with our team is a great way to get everything you need.
Better Home Value – Without a doubt, remodeling your kitchen is an excellent way to increase the value of your home. Even the most minor remodel provides a substantial return on investment.
Why Choose We Do Kitchens 2?
We Do Kitchens 2 staff has over 30 years of combined design experience. Whether you're interacting with our talented design staff or our dedicated installers, each team member is passionate about delivering the best product possible. Our goal is to meet your needs and exceed your expectations. To learn more or schedule your free estimate, call us.
Contact We Do Kitchens 2 for Your Free Estimate