Skip to Content
Service Area Whitefish Bay, WI
Kitchen Remodeling Services in Whitefish Bay, WI
Unleash your kitchen's full potential with our expert remodeling services, cutting-edge updates, and contemporary design solutions. Our team of experienced professionals has been dedicated to providing exceptional kitchen remodeling services in the vibrant neighborhood of Whitefish Bay for an extensive period. We take immense pride in being an integral part of this thriving community. Whether you're looking to enhance specific elements or embark on a complete kitchen overhaul, we're here to offer our unwavering support. Our utmost priority is to collaborate closely with you at every stage, ensuring the creation of a breathtaking, functional, and truly personalized kitchen that exceeds all your expectations. Have you been dreaming of enhancing your kitchen for years but don't know where to start? Call We Do Kitchens 2 today, and let's work together to transform your kitchen into the perfect space.
Services We Offer in Whitefish Bay, WI
Kitchen Cabinets: Our comprehensive kitchen cabinet services encompass replacement and customization. We work closely with our clients to design exclusive concepts that match their style and budgetary needs perfectly.
Kitchen Countertops: Our experts specialize in rejuvenating worn or outdated countertops, transforming them into stylish and functional surfaces. We tailor our offerings to meet your preferences with a wide range of materials available, such as granite, marble, and quartz.
Kitchen Flooring: Let us guide you in choosing the ideal flooring for your kitchen and execute professional installations. Our team provides diverse design options that seamlessly blend with any style, ensuring durable and visually stunning results.
Kitchen Backsplash: Enhance the style and functionality of your kitchen space with our top-notch backsplash remodeling services. Our team assists you in selecting the right materials and designs that harmonize with your cabinets, countertops, and overall kitchen aesthetic.
Complete Kitchen Remodel Package: Our all-inclusive package offers custom designs, high-quality materials, and professional installation services, guaranteeing a breathtaking and practical kitchen tailored to your specific requirements. From minor updates to complete transformations, we handle every aspect of your kitchen remodel.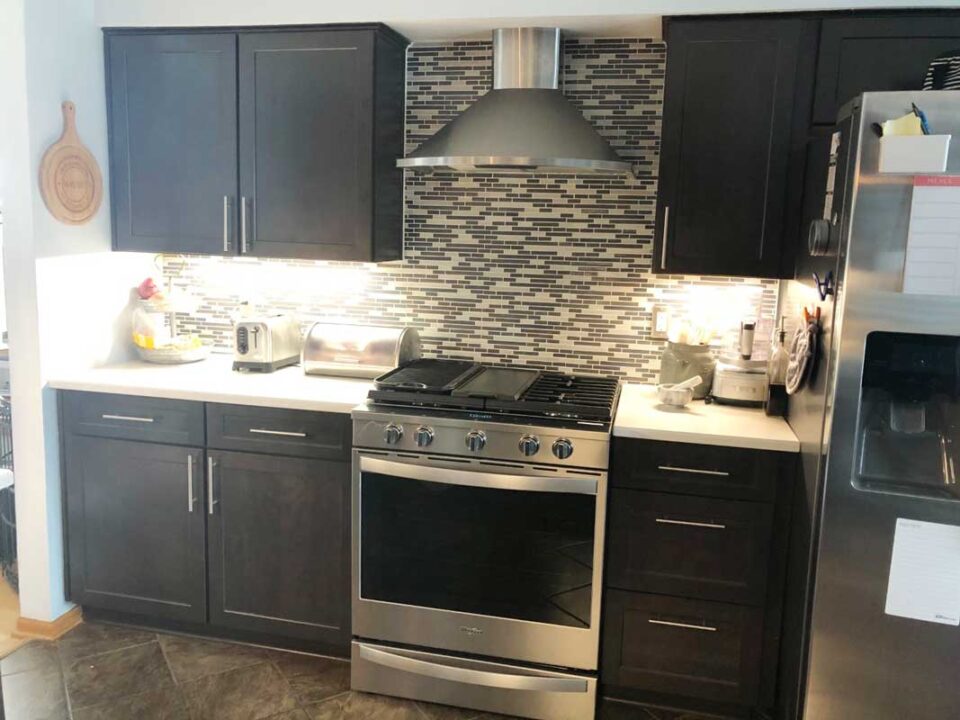 Our Custom Kitchen Renovation Packages
At We Do Kitchens 2, we take pride in offering customized kitchen renovation packages that cater to our Whitefish Bay clients' unique needs and preferences. We understand that every kitchen is distinct, and we invest the time to closely collaborate with each customer, crafting a plan that fulfills their vision. Our custom renovation packages encompass a wide array of kitchen remodeling services, including custom cabinetry, new countertops, flooring, backsplashes, and more. By utilizing premium materials and employing expert craftsmanship, we ensure that every aspect of the renovation surpasses our client's expectations. With our custom kitchen renovation packages, you can transform your outdated or inefficient kitchen into a beautiful and functional space that will bring you joy for years.
The Key Advantages of Kitchen Remodeling
Enhanced Functionality : Through clever layout rearrangements, additional storage space, and upgraded appliances, a kitchen remodel significantly improves the functionality of your kitchen.
Increased Property Value: A kitchen remodel adds substantial value to your home, making it highly appealing to potential buyers.
Improved Aesthetics: During a remodel, give your kitchen a fresh and updated look by revamping outdated features such as countertops, cabinets, and flooring.
Energy Efficiency: Embrace energy-efficient solutions by installing appliances, lighting, and windows that reduce energy consumption in your kitchen.
Health and Safety: Prioritize your well-being by upgrading to safer materials and appliances, such as non-toxic paints or anti-slip flooring, creating a healthier and safer kitchen environment.
Personalization: Infuse your unique style and preferences into your kitchen through a remodel that allows for personalization and customization.
Enhanced Comfort: Experience heightened comfort in your home by improving ventilation
Let's Get Started
When it comes to exquisite kitchen remodeling services in the Whitefish Bay, WI region, there's no need to search any further than We Do Kitchens 2. Our skilled team is fully devoted to delivering exceptional design and renovation services that exceed your wildest expectations. We take pride in offering tailor-made solutions that perfectly align with your budget and style preferences, ensuring your dream kitchen becomes a reality. Get in touch with us today to schedule your consultation and take the exciting first step toward transforming your kitchen into a space you'll cherish for years to come.
Contact We Do Kitchens 2 for Your Free Estimate