Skip to Content
About Our Kitchen Remodeling Company
A Rich History of Superior Remodeling Services
A professional update can add style, function, and convenience to your kitchen. With new features, additions, and a renovated layout, you can create a stunning, modern gathering space for family and friends. To achieve all this, you'll need to know who to call for your professional kitchen remodel. If you live in Wisconsin, your choice is simple: We Do Kitchens 2.
Our company can help you remodel your entire kitchen space without spending a fortune and deliver results you'll love. For years, customers have turned to us for the upgrades and styles they want and have helped us build our sterling reputation for stunning results. We invite you to do the same and explore everything that makes us Milwaukee's premier kitchen remodelers.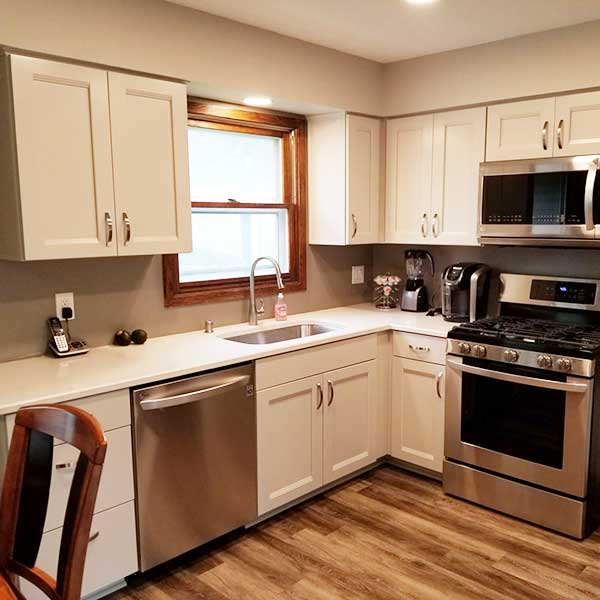 Our Years of Experience
Factory-Trained Designers With Years of Design Experience
Our staff has more than 100 years of combined design experience. From our team of talented designers to our tireless installers, to our expert management staff, we all work together to deliver the remodeling services you deserve. We have been in the business long enough to recognize what trends work and how to implement them. Our company has perfected our methods over time and uses only the best products and techniques to get the job done right. We Do Kitchens 2 We is part of a business that maintains a superb reputation by satisfying our customers. Let us show you what we mean.
Our Promise of Exceptional Service
As members of the National Association of the Remodeling Industry (NARI) and accredited by the Better Business Bureau, our company holds the right licenses, credentials, and insurances necessary to lead the remodeling industry. For close to 20 years, our business has worked hard to follow NARI's Code of Ethics to build strong relationships with our customers, the best suppliers, and vendors, and it shows in everything we do.
We Do Kitchens 2 displays CAD drawings to help you visualize. From our showroom in Greenfield, WI, we have several unique styles on display. We can offer you the latest cabinets, flooring, plumbing, and accessory offerings to meet your package pricing goals. It's all part of our promise of exceptional service to you.
Call today for a free in-home visit! Our professional designer will listen to your goals and bring along samples to get the creative thoughts flowing.
Locally Owned and Operated
Contact We Do Kitchens 2 for Your Free Estimate