Skip to Content
Service Area Bay View, WI
About Our Kitchen Remodeling Services in Bay View, WI
Ready to give your kitchen a remarkable transformation? Look no further than We Do Kitchens 2. Our dedicated team of experts is well-versed in providing tailor-made kitchen remodeling services in Bay View, WI, that will surpass all your expectations. Whether you want to update your cabinets and countertops or complete a kitchen redesign, we're here to bring your vision to life. Our commitment to using premium materials, offering custom designs, and delivering impeccable installations guarantees a successful and stunning outcome for your project. Get in touch with us today to schedule a consultation and discover the full range of our exceptional kitchen remodeling services in Bay View, WI. Let us be the ones to turn your dream kitchen into a captivating reality.
Services We Offer in Bay View, WI
Kitchen Cabinetry: We offer comprehensive services for your kitchen cabinets, ranging from replacement to customization. Our team collaborates closely with clients to craft one-of-a-kind designs that perfectly align with their style and budget.
Kitchen Countertops: Entrust our experts to breathe new life into your worn or outdated countertops, transforming them into stylish and highly functional surfaces. With a wide array of materials to choose from, including granite, marble, and quartz, we work closely with you to ensure your preferences are met.
Kitchen Flooring: Let us guide you in selecting the ideal flooring option for your kitchen, and rest assured that our team will handle the installation with expert precision. We offer a diverse range of design choices that seamlessly complement any style, guaranteeing both durability and aesthetic appeal.
Kitchen Backsplashes: Elevate your kitchen's style and functionality with our top-notch backsplash remodeling services. Our knowledgeable team assists you in choosing the perfect materials and design that harmonize with your cabinets, countertops, and overall kitchen aesthetic.
Complete Kitchen Remodeling Package: Our all-encompassing services encompass custom designs, premium materials, and professional installations, ensuring a stunning and practical kitchen tailored to your specific requirements. Whether you seek minor updates or a complete overhaul, we have the expertise to manage every aspect of your kitchen remodel meticulously.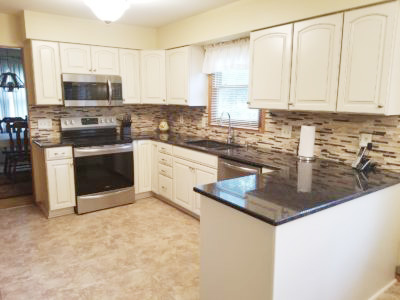 Tailored Packages at Your Service
At We Do Kitchens 2, we take immense pride in providing custom kitchen renovation packages that cater to our valued clients' distinct needs and tastes. Our skilled team collaborates closely with customers, ensuring personalized designs that perfectly align with their individual styles and budgets. With a focus on using top-notch materials and delivering professional installations, we guarantee nothing short of exceptional outcomes. With our expertise and unwavering dedication to customer satisfaction, We Do Kitchens 2 is your trusted partner in transforming any kitchen into a breathtaking and highly functional space that surpasses all expectations.
What Are the Advantages of Kitchen Remodeling?
Enhanced Functionality: By undertaking a kitchen remodeling project, you can enhance the functionality of your culinary space. Modern appliances, increased storage capacity, and optimized layouts are just a few examples of how your kitchen can be customized to better suit your specific needs.
Enhanced Safety: A kitchen remodel can also prioritize safety. Outdated appliances can be replaced with modern ones that incorporate the latest safety features. Additionally, installing durable flooring materials and implementing effective lighting solutions can help minimize accidents and promote a secure cooking environment.
Energy Efficiency: Remodeling your kitchen presents an excellent opportunity to improve energy efficiency. You can enjoy reduced energy consumption and lower utility bills by replacing old appliances with energy-efficient models, installing energy-saving lighting fixtures, and enhancing insulation.
Improved Aesthetics: Revamping your kitchen's appearance is one of the most exciting aspects of a remodel. With updated fixtures, stylish finishes, and a cohesive design, your kitchen can be transformed into an aesthetically pleasing space that reflects your taste and provides a pleasant ambiance for cooking and entertaining.
Sustainable Lifestyle: By embracing sustainable practices during your kitchen remodel, you can contribute to a greener lifestyle. Using eco-friendly materials and energy-efficient appliances and incorporating recycling systems can minimize your environmental impact and promote sustainability in your daily routine.
Increased Property Value: Kitchen renovations have a proven track record of boosting the value of your home, making it a valuable investment, particularly if you have plans to sell in the future. A well-designed and updated kitchen can significantly appeal to potential buyers.
Contact We Do Kitchens 2 Today
When it comes to premier kitchen remodeling services in Bay View, WI, We Do Kitchens 2 stands as your ultimate destination. Our team comprises experienced and skilled professionals dedicated to surpassing your expectations with exceptional outcomes. From crafting personalized cabinetry and countertops to expertly installing top-tier flooring and backsplashes, we have the expertise to fulfill all your kitchen renovation desires. Embark on your dream kitchen journey by scheduling a consultation with us today. Don't hesitate to contact us and take the first step towards transforming your kitchen into a masterpiece.
Contact We Do Kitchens 2 for Your Free Estimate