Skip to Content
About Our Kitchen Remodeling Services in Racine, WI
Looking for trusted kitchen remodeling services in Racine, WI? If so, you've come to the right place. At We Do Kitchens 2, we understand that the kitchen is the heart of your home, and we're here to help you create a space that reflects your unique style and meets your specific needs. Our experienced team of professionals is committed to providing top-notch remodeling services that will transform your kitchen into a beautiful, functional space, and we can help you achieve your dream kitchen.
Our Services in Racine, WI
Kitchen Cabinets – We offer a wide range of kitchen cabinet services, including customizing or replacing them. We collaborate closely with our clients to create unique designs that cater to their individual styles and budget.
Kitchen Countertops – Our experts specialize in transforming old or outdated countertops into stylish and functional surfaces. We provide various materials, such as granite, marble, and quartz, and we work closely with our clients to ensure that their preferences are met.
Kitchen Flooring – We can help you choose the appropriate type of flooring for your kitchen and install it expertly. We offer several design options to match any style and guarantee long-lasting and beautiful results.
Kitchen Backsplash – Our backsplash remodeling services add style and functionality to your kitchen space. Our team can assist you in selecting the right materials and design to match your cabinets, countertops, and overall kitchen style.
Total Kitchen Remodel Package – Our services include customized design, top-quality materials, and professional installation to ensure your kitchen is beautiful, practical, and tailored to your specific requirements. We can handle every aspect of your kitchen renovation, whether a minor update or a complete overhaul.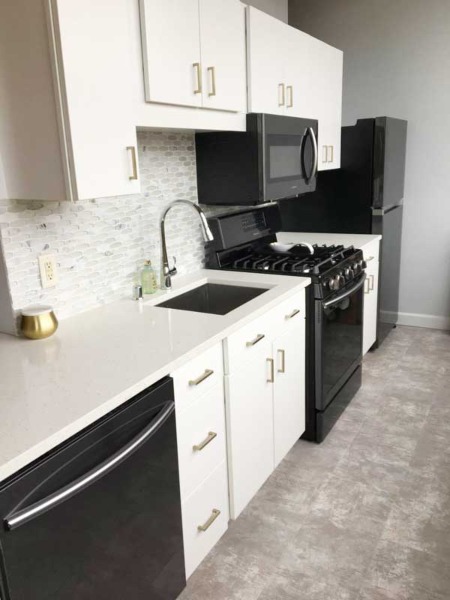 Custom Packages Just for You
The experienced service professionals at We Do Kitchens 2 take pride in offering customized kitchen renovation packages tailored to each client's unique requirements and preferences. We recognize that every kitchen is different, so we work closely with our customers to create a personalized plan that meets their needs. Our custom packages consist of comprehensive kitchen renovation services, including custom cabinetry, flooring, new countertops, backsplashes, and more. We utilize high-quality materials and skilled craftsmanship to ensure that every aspect of the renovation surpasses our clients' expectations. With our bespoke kitchen renovation packages, you can transform your outdated or inefficient kitchen into a beautiful and functional space you will cherish for years.
What Are the Benefits of Kitchen Remodeling?
Improved Functionality – Kitchen remodeling can make your kitchen more functional and efficient. You can rearrange the layout, add storage space, and upgrade appliances to make cooking and cleaning easier.
Increased Home Value – A kitchen renovation can increase the value of your home. A modern, updated kitchen is a major selling point for potential buyers and can significantly improve the overall value of your property.
Enhanced Aesthetic Appeal – Kitchen remodeling allows you to update the look and feel of your kitchen, giving it a fresh, modern look. New countertops, cabinets, flooring, and lighting can all make a big impact on the appearance of your kitchen.
Energy Efficiency – Upgrading to energy-efficient appliances and lighting can save you money on your energy bills in the long run while reducing your carbon footprint.
Health and Safety – A kitchen renovation can improve the health and safety of your home. Replacing old, worn-out appliances and fixing any leaks or electrical issues can help prevent accidents and improve the air quality in your home.
Contact We Do Kitchens 2
At We Do Kitchens 2, we are committed to providing high-quality kitchen remodeling services in Racine, WI, that meet our clients' unique needs and preferences. With our focus on custom design, high-quality materials, and expert installation, we ensure that every aspect of your kitchen remodel exceeds your expectations. Whether you want a minor update or a complete kitchen renovation, our experienced team of professionals can help you bring your vision to life. Contact us to schedule a consultation and start creating the kitchen of your dreams.
Contact We Do Kitchens 2 for Your Free Estimate