Skip to Content
Service Area Milwaukee, WI
About Our Kitchen Remodeling Services in Milwaukee, WI
Milwaukee, WI is a city that is full of life and character, and your home deserves a kitchen that matches that vibrancy. That's where We Do Kitchens 2 comes in. Our team of professionals has been providing top-quality kitchen remodeling services in Milwaukee for years, and we're proud to be a part of this thriving community. Whether you're looking to update a few features or completely transform your kitchen space, we're here to help. Our goal is to work with you every step of the way to create a beautiful, functional, and personalized kitchen that exceeds your expectations. If you're in Milwaukee and looking to upgrade your kitchen, contact We Do Kitchens 2 today and let us help you bring your vision to life.
Services We Offer in Milwaukee, WI
Kitchen Cabinets – We offer kitchen cabinet services, including replacement and customization. Our team works closely with clients to create unique designs that match their style and budget requirements.
Kitchen Countertops – Our experts specialize in transforming old or worn countertops into functional and stylish surfaces. We provide various materials, including granite, marble, and quartz, and we work closely with clients to ensure that their preferences are met.
Kitchen Flooring – We help you choose the right type of flooring for your kitchen and professionally install it. Our team offers a range of design options that match any style, and we ensure that our results are durable and beautiful.
Kitchen Backsplash – We provide backsplash remodeling services to add style and functionality to your kitchen space. Our team can help you choose the right materials and designs that match your cabinets, countertops, and overall kitchen style.
Total Kitchen Remodel Package – We offer custom design, high-quality materials, and professional installation services to ensure a beautiful and practical kitchen that meets your specific requirements. We can handle every aspect of your kitchen remodel, from minor updates to complete overhauls.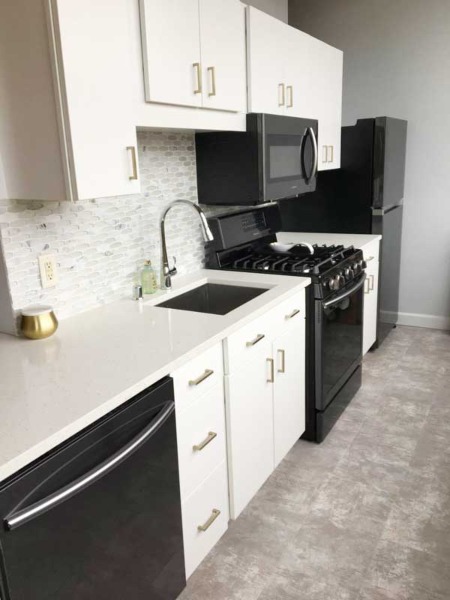 Learn More About Our Custom Kitchen Remodeling Packages
We Do Kitchens 2 is proud to offer custom kitchen renovation packages that are tailored to meet the unique needs and preferences of our clients. We understand that every kitchen is different, and we take the time to work closely with each customer to create a plan that meets their specific requirements. Our custom renovation packages can include a variety of kitchen remodeling services, such as custom cabinetry, new countertops, flooring, backsplashes, and more. We use high-quality materials and expert craftsmanship to ensure that every aspect of the renovation exceeds our clients' expectations. With our custom kitchen renovation packages, you can transform your outdated or inefficient kitchen into a beautiful and functional space that you will love for years to come.
Top Benefits of Kitchen Remodeling
Improved Functionality – Kitchen remodeling can improve the functionality of your kitchen by rearranging the layout, adding more storage space, or upgrading appliances.
Increased Home Value – A kitchen remodel can increase the value of your home and make it more attractive to potential buyers.
Enhanced Appearance – A kitchen remodel can give your kitchen a fresh new look and update outdated features, such as countertops, cabinets, and flooring.
Energy Efficiency – Kitchen remodeling can also improve the energy efficiency of your home by installing energy-efficient appliances, lighting, and windows.
Health and Safety – Upgrading to safer materials and appliances, such as non-toxic paints or anti-slip flooring, can improve the health and safety of your kitchen.
Personalization – A kitchen remodel allows you to personalize your space and create a kitchen that reflects your style and preferences.
Increased Comfort – A remodeled kitchen can increase the comfort of your home by improving ventilation, adding insulation, and installing comfortable seating.
More Space – Kitchen remodeling can also increase the amount of space in your kitchen, making it easier to cook and entertain guests.
Contact We Do Kitchens 2 Today for Kitchen Remodeling
We Do Kitchens 2 is proud to serve the residents of Milwaukee, WI, and help them create the kitchen of their dreams. Our skilled team of professionals is dedicated to delivering high-quality results that exceed our clients' expectations. Whether you're looking to update your kitchen cabinets, countertops, flooring, backsplash, or transform your entire kitchen space, we've got you covered. We invite you to contact us today to learn more about our services and start your kitchen remodel journey with us. Let us help you create a beautiful, functional, and personalized kitchen space that you'll love for years to come.
Contact We Do Kitchens 2 for Your Free Estimate