Skip to Content
Service Area Franklin, WI
About Our Kitchen Remodeling Services in Franklin, WI
For reliable and professional kitchen remodeling services in Franklin, WI, your search ends with We Do Kitchens 2. Our team of skilled experts possesses the expertise and knowledge to turn your kitchen into the perfect space you've always dreamed of. From custom-designed cabinets and countertops to elegant flooring and backsplashes, our comprehensive range of services caters to all your kitchen remodeling needs.
Services Offered in Franklin, WI
Kitchen Cabinets: We provide kitchen cabinet replacement and customization services, working closely with clients to create unique designs that align with their style and budget.
Kitchen Countertops: Our specialty lies in transforming worn or outdated countertops into stylish and functional surfaces. We offer a variety of materials, such as granite, marble, and quartz, ensuring that your preferences are met.
Kitchen Flooring: Let our experts assist you in selecting the ideal flooring for your kitchen, followed by professional installation. With a range of design options available, we guarantee durable and stunning results that match any style.
Kitchen Backsplash: Our backsplash remodeling services add both style and functionality to your kitchen space. With our guidance, you can select the perfect materials and designs that complement your cabinets, countertops, and overall kitchen style.
Total Kitchen Remodel Package: Our comprehensive package includes custom design, high-quality materials, and professional installation, resulting in a practical and beautiful kitchen tailored to your specific requirements. Whether you require minor updates or a complete overhaul, we have you covered.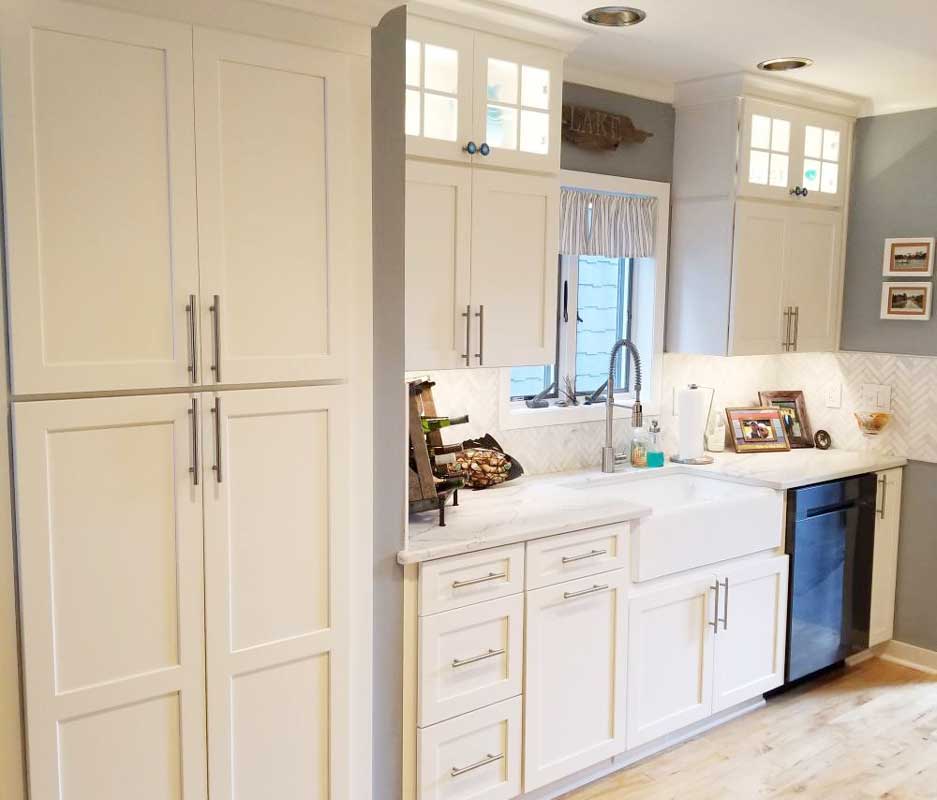 Custom Packages Available
At We Do Kitchens 2, we take pride in offering custom kitchen renovation packages designed to meet the unique needs and preferences of each client. We understand that every kitchen is distinct, and we work closely with you to develop a personalized plan that caters to your specific requirements. Our custom packages encompass a wide range of kitchen renovation services, including custom cabinetry, new countertops, flooring, backsplashes, and more. By utilizing high-quality materials and expert craftsmanship, we ensure that every aspect of the renovation surpasses your expectations. With our custom kitchen renovation packages, your outdated or impractical kitchen will be transformed into a stunning and functional space that you'll cherish for years to come.
Key Advantages of Kitchen Remodeling
Improved Functionality: Enhancing the functionality of your kitchen is one of the primary benefits of remodeling. Whether it's reconfiguring the layout, installing new appliances, or adding storage options, we'll help optimize your space.
Increased Home Value: Investing in a kitchen remodel can significantly increase the value of your home. With our emphasis on high-quality materials and appliances, you can expect a substantial return on investment if you decide to sell your property.
Energy Efficiency: By incorporating energy-efficient upgrades during your kitchen remodel, you can reduce your energy bills and create a more sustainable environment.
Personalization: A kitchen remodel allows you to personalize the space according to your preferences, reflecting your unique style and taste.
Improved Safety: Outdated or faulty appliances pose potential safety hazards. Our kitchen remodels will eliminate such risks by replacing them with newer, safer models.
Increased Comfort: An outdated or poorly designed kitchen can be uncomfortable to use. With our remodel, we'll ensure your kitchen becomes a comfortable and enjoyable space.
Enhanced Aesthetics: A kitchen remodel breathes new life into the space, making it more visually appealing. From lighting to flooring and countertops, we'll revitalize the aesthetics of your kitchen.
Contact We Do Kitchens 2
We Do Kitchens 2 is the premier kitchen remodeling company serving Franklin and the surrounding areas. Our team of experienced professionals is dedicated to creating beautiful, functional, and personalized kitchen spaces for our clients. With our commitment to using high-quality materials and advanced techniques, we guarantee that our work will exceed your expectations. If you're ready to transform your kitchen, contact us today to schedule a consultation and let us bring your vision to life.
Contact We Do Kitchens 2 for Your Free Estimate