Skip to Content
Service Area New Berlin, WI
About Our Kitchen Remodeling Services in New Berlin, WI
Looking to transform your kitchen? We Do Kitchens 2 is here to help. Our team of skilled professionals specializes in custom kitchen remodeling services that will exceed your expectations. From updating your kitchen cabinets and countertops to designing and installing a brand-new kitchen, we are here to turn your dream kitchen into a reality. We use top-quality materials, provide custom designs, and guarantee professional installation to ensure that your project is a success. Contact us today to schedule a consultation and learn more about our kitchen remodeling services in New Berlin, WI.
Services We Offer in New Berlin, WI
Kitchen Cabinets – We provide a range of services for kitchen cabinets, including replacement and customization. Our team works closely with clients to create unique designs that match their style and budget.
Kitchen Countertops – Our experts specialize in transforming old or worn countertops into stylish and functional surfaces. We offer various materials, including granite, marble, and quartz, and we work closely with clients to ensure their preferences are met.
Kitchen Flooring – Our team can help you choose the right type of flooring for your kitchen and install it expertly. We offer a range of design options to match any style, and we guarantee durable and beautiful results.
Kitchen Backsplash – We provide backsplash remodeling services to add both style and function to your kitchen space. Our team can help you choose the right materials and design to match your cabinets, countertops, and overall kitchen style.
Total Kitchen Remodel Package – Our services include custom design, high-quality materials, and professional installation to ensure a beautiful and practical kitchen tailored to your specific requirements. We can manage every aspect of your kitchen remodel, from minor updates to complete overhauls.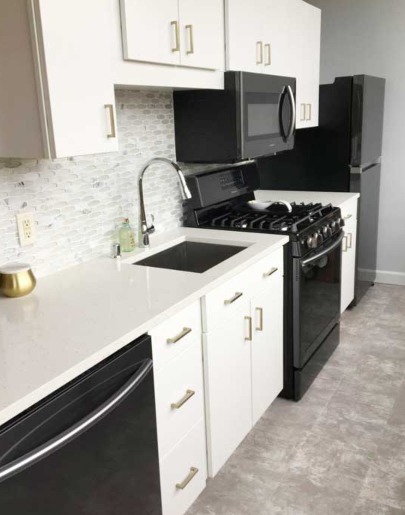 Custom Packages Available
We Do Kitchens 2 proudly offers custom kitchen renovation packages to meet the unique needs and preferences of our clients. Our experienced team works closely with customers to create personalized designs that match their unique styles and budgets. Our kitchen renovation services include high-quality materials and professional installation to ensure exceptional results. With Our expertise and commitment to customer satisfaction, We Do Kitchens 2 can help transform any kitchen into a beautiful and functional space that exceeds expectations.
What Are the Benefits of Kitchen Remodeling?
Enhanced Functionality – Kitchen remodeling can improve the functionality of your kitchen by incorporating modern appliances, creating more storage space, and optimizing the layout to suit your needs.
Increased Home Value – Kitchen renovations are known to increase the value of your home, making it a worthwhile investment if you plan on selling your home in the future.
Energy Efficiency – Remodeling your kitchen can also help reduce your energy bills by upgrading to energy-efficient appliances, installing better lighting, and improving insulation.
Improved Safety – Renovating your kitchen can also make it a safer place, especially if you replace outdated appliances, install new flooring, or add better lighting.
Enhanced Aesthetic Appeal – A kitchen renovation can update the look of your kitchen, making it a more visually appealing space that you'll enjoy spending time in.
Improved Sustainability – With the use of sustainable materials and energy-efficient appliances, a kitchen remodel can also help reduce your carbon footprint and contribute to a more sustainable lifestyle.
Contact We Do Kitchens 2 Today
We Do Kitchens 2 is the ultimate destination for top-notch kitchen remodeling services in New Berlin, WI. Our team of highly skilled professionals is committed to delivering exceptional results that will exceed your expectations. With our expertise in designing custom cabinets and countertops, as well as installing high-quality flooring and backsplashes, we have all your kitchen renovation needs covered. To get started on creating your dream kitchen, schedule a consultation with us today. Contact us now and let's get started on your kitchen remodeling journey.
Contact We Do Kitchens 2 for Your Free Estimate